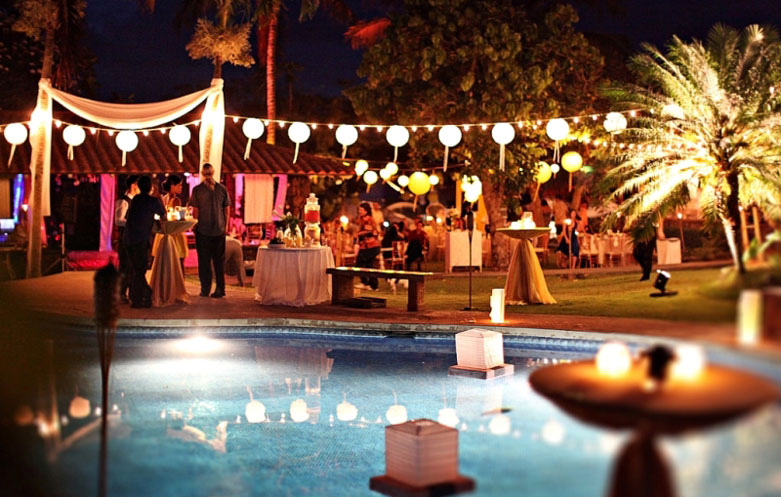 Are you planning a Hawaii destination wedding and reception?
A Rainbow in Paradise Weddings offers full wedding planning and reception planning on Oahu or Kauai. We are happy to assist you no matter where you are in the planning process. Whether you need a day of wedding coordinator or if you have done some work yourself and need additional assistance. We are always happy to help.
Services provided:
Full wedding planning from conception to execution.
Partial wedding planning.
Wedding/reception venue recommendations.
We consider your budget to meet your needs.
Rehearsal dinner planning
We work with reliable wedding service providers such as photographers makeup artists, caterers, musicians, hula show and fire dancers, videographers, wedding cake designers, all types of ceremony Officiates and more…
Our service is personalized. We work with your ideas to make them a reality.
Wedding Coordinator Services on Oahu or Kauai:
Full wedding planning from conception to execution.
We will consult with you on your ideas and make them a reality.
Partial wedding planning.
For those that have done some of the footwork. For instance you have already secured a venue or a few vendors.
Day of Coordinator Services
For those that have secured all services for their wedding. You need a day of coordinator
to assist with vendor call backs, rehearsal, check timeline and be to the go to person on
location.
Please email or call Kalona for faster service to discuss your needs, vision and pricing.
Here's what couples have said:
See our reviews on Wedding Wire.
A letter from Newlywed Bride to Engaged Bride:
If you are planning to have your special day on Oahu or Kauai you definitely have the right person.
Kalona always answered my questions promptly and helped us throughout the process from the venues to the vacation rentals and all the wedding services.
Trust me. The planning was not that easy and very overwhelming from so far away.
There were several things which stress you out because it is like you take three steps, and then there is something that comes up so you lose a step. Once you start planning your wedding with her, you will know she truly cares for you and your special day.
I slept so well the day before my wedding because I knew Kalona had everything together.
We could not have done this without her!
Mr. and Mrs. Andrew and Nao Kaufman, Japan
Aloha Kalona –

I want to thank you so much for coordinating our wedding. The flowers were lovely, the venue was spectacular and we loved the food – so yummy – best we had the whole 2 weeks we were in Hawaii.  We couldn't have asked for anything more convenient and lovely – everyone had a great time!  We thank you so very much for recommending our the military location so we could our reception and the beach right there for the wedding, we couldn't have asked for anything more.
Jeanne was great to work with for the photos, she is very fun and did a great job and she is going to make us an album. You can feel free to use this for a letter of recommendation for your services.
Mahalo!
Audrey & Daniel 
Kalona did a wonderful job in helping us find the perfect venue and vendors for our wedding and reception on Oahu.
My family and friends were so impressed by how everything just came together so smoothly on the day of from the decor to the catering it could not have been more perfect. We brought our own minister and she helped us make sure he was legally able to perform our ceremony. She really wanted us to have the wedding that we envisioned. When we received our photos we were so happy with the results! Our wedding in Hawaii was more that we could ever have imagined thanks to Kalona and her crew!
Justin and Lindsey
My husband and I will be married one year this coming Sept. 21st and we owe our wonderful wedding experience to Kalona of A Rainbow in Paradise. We knew we wanted to get married in Kailua and had some ideas but it wasn't until we found Kalona and enlisted her help that it all came together. She is very easy to work with and has great ideas and suggestions. She even helped us handle a very large snafu that would have been a lot more stressful if not for her help! She is very knowledgeable and has great relationships with all of the vendors. All of this combined made for the most magical , perfect wedding day ever! A Rainbow in Paradise helped make our day exactly the way we wanted it!
Melanie and  Marc Beckman
Aloha Kalona!
We wanted to thank you again for a beautiful beach wedding and reception. The photographer took amazing photos, the flowers were beautiful and just what Jerry and I dreamed of. You took the time to make sure our every wish was considered. We will never forget our special day. We appreciate everything you did and will recommend you to our friends!
All the best to you,
Shawna and Jerry
From the Mother of the Groom:
Aloha Kalona!
We were very pleased with Andrew and Nao's wedding and reception.  Their reception was so elegant and full of so many surprises and emotions.  The food was delicious!  The hula show was a lovely added bonus.  Everyone had a wonderful evening! We would love to come back to Hawaii some day and if we do, trust me we will contact you.  If you ever need references please do not hesitate to contact us.    Take care my dear friend!
Bonnie Shelleman
Please contact us so we can get started with your Hawaiian dream wedding.
Click here for more info on our Oahu/Kauai Coordination website.