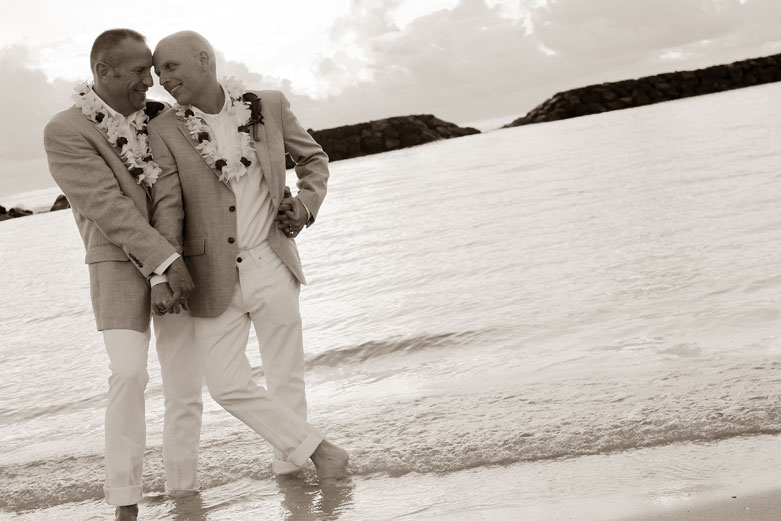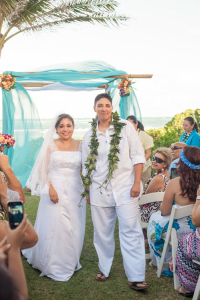 A Rainbow in Paradise Weddings has been offering customized ceremonies for all people since the day the company opened its doors in 2004. Ceremonies such as Commitment ceremonies and Civil Unions have always been popular. Now that the 50th State made Hawaii Gay marriages legal, same sex weddings in Hawaii will bring many more couples to the islands.
E komo mai (Welcome)!
We work with only gay-friendly professional photographers (photo samples) and gay friendly vendors on Oahu and Kauai. We can assist you with a reception and also offer Gay wedding packages on Oahu and Kauai.
Please take a look at our Oahu wedding packages as well as our wedding packages in the island of Kauai.
Meet Kalona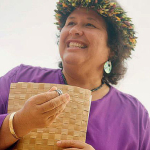 Kalona is a very experienced gay wedding planner and officiate. She will customize your wedding package and reception according to your budget and honor ALL your requests. It's very difficult to offer a large premade wedding Hawaii venue and Hawaii reception package because everyone has different tastes and budgets. Some will want more and others will want something very simple. Call Kalona at 808-372-0343 or send an e-mail through the contact page to setup a consultation. There are many options that are not on the website and her experience goes a long way in finding that perfect location.
A Rainbow in Paradise Weddings in Hawaii strives to give you the wedding and reception of your dreams!
This is your magic moment…
Have fun!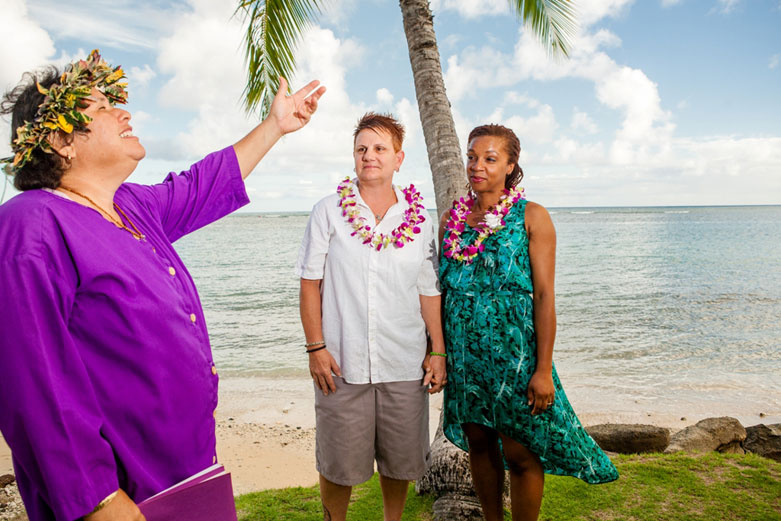 Available Packages
#1: Waimanalo or Lanikai Beach Package (Sun-Thur) – $895.00
An enjoyable, fun and inexpensive package for just the two of you or with a few of your guests before going to a luau or restaurant for dinner.  Many couples add hors d'oeuvres and a mini wedding cake to gain more photo opportunities.
#2: The Heart of Hawaii Package (Sun-Thur) – $1,750.00
The ceremony starts with the blowing of the conch…
A Hawaiian chant blesses and calls forth the mana and honors the a'ina (land) and the ancestors.
A traditional lei exchange between bride and groom and/or family signifies their Aloha for each other and the coming together as one Ohana (family).
A beautiful and graceful Hula dancer supports the presence of the spirit of aloha in your marriage. Her dances are performed throughout the ceremony.
A wedding pule in Hawaiian and English asks for the grace and blessings of Akua (Spirit) at the beginning of your marriage or the continuance if a vow renewal.
The rings are blessed with ti leaf and ocean water held in a beautiful koa bowl signifying the strength of your relationship.
A circle of blessing of the Ohana ends with a ho'pe lo'a pule (final blessing).
#3 – Sunset Beach Wedding (Sun-Thur) – $1,295.00
This location is the best for a lovely Sunset with beautiful white sands and deep blue waters and reefs nearby.  About 1.5 hrs from Waikiki.
#4 – Exclusive Waterfall Package for 8 to 10 people (Sun-Thur) – $1,075.00
The waterfall location is a natural waterfall located on the east side of Oahu. It offers a magical connection to the land, water and nature. The hike is a comfortable 20 to 25 minutes hike with some stepping up and flat areas. Overlooking Kaneohe Bay, this beautiful location is a nature lover's paradise and is highly sought after for intimate Oahu weddings, vow renewals, civil unions or commitment ceremonies.
#5 – Wedding Excursion Package for Two – $2,100.00 and up
Approximately 4 hours round trip of fun, sun and celebration! This is a fun and unique way to get married and have a picturesque tour of the island of Oahu, Kauai or Molokai.
You may customize the details on locations and routes for your excursion to your heart's desire.