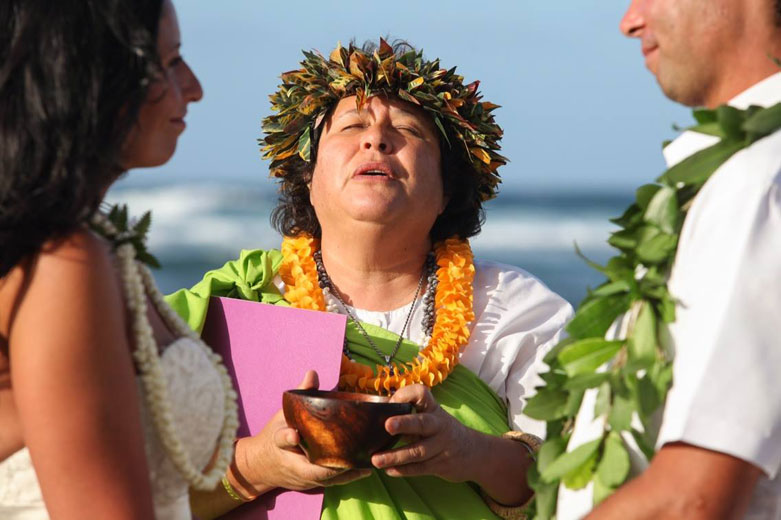 A Rainbow in Paradise Weddings has the privilege of being able to offer many wonderful and fun loving Officiants who love what they do and are dedicated to giving each couple a heart felt and customized ceremony. These are just a few below who are all willing to travel to any island or the mainland to celebrate your wedding!
And because Hawaii's Civil Union Bill was passed, we now also do beautiful civil union ceremonies! Please contact us for more information.
Kumu Ainsley
Kumu is affectionately known as" Uncle" by his hula students. He is a Master Hula instructor, musician, Hawaiian chanter and minister of Hawaiian blessings and wedding ceremonies. He also goes to Japan to teach his many students and student teachers.  He is dedicated to passing on the Hawaiian culture to all who seek to learn.
Minister Kalona
Kalona has been performing spiritually warm and loving ceremonies that embrace the Hawaiian Culture for over 10 years on Oahu and Kauai. She is a haumana (student) of Kumu Ainsley Halemanu and of the late Kahu Ryan Kalama.  Interfaith ceremonies are also embraced as it is her intention to always craft the ceremony you envision.
Kahu Myles
Kahu Myles Nakasone is working minister of the Christian faith and is involved in his church and volunteers regularly in his community. He loves wedding two people together in Holy Matrimony and will perform a traditional Christian ceremony or a non-denominational ceremony in English or Japanese. We will send you vows and readings so you can customize your ceremony according to your beliefs.
Kahu Myles has been performing weddings since 1999 and volunteers regularly in his community of faith. He offers either Christian, Hawaiian or non-denominational customized ceremonies to his couples.
Reverend Kahuhine Rosemary
Reverend Kahuhine Rosemary is a non-denominational minister and offers wedding, commitment ceremonies and vow renewals. She integrates the vast experiences she has learned from Kahuna in Hawaii, Lakota Indians, Zen Buddhists, Hindu Gurus, Christian denominations, and numerous other resources. Each ceremony is a one of a kind special event and can include chant in Hawaiian and blessings. Multi-lingual options are available such as vows in Japanese, Italian and Spanish. Other languages also may be uniquely added into the ceremony.