Unique Hawaiian Wedding Ceremony for only $395
Kalona is running a special ceremony package which includes:
Customized Hawaiian ceremony by Kalona: Only $395
Ceremony and vow samples you may edit
2 Premium leis for ceremony
Required permit on any south or east side Oahu beach
Assistance with wedding license requirements and appointment
Please see our blog post for more information or contact Kalona directly at 808-372-0343.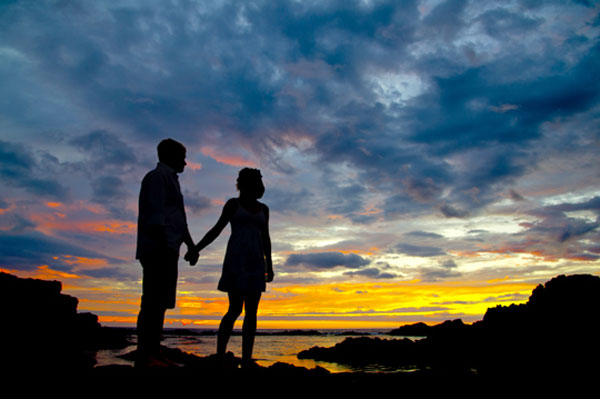 The Big Island has awesome sunsets year round and we would love to give you a memorable experience with a simple wedding package and awesome photography. See Jeanne's portfolio here.
Contact Kalona for more info or call 808-372-0343
Big Island Wedding Package includes: $1295
Wedding Ceremony by Kalona
Hawaiian, Christian or non-denominational Ceremony and vow samples. Customize your ceremony by adding a mixture of elements and write your own vows if you wish.
Professional Photography by Jeanne Viggiano
80-100 images on a CD, web gallery and copyright release to your images
One Tropical bouquet
Two simple fresh Hawaiian Leis
Required Beach Permit
Sales tax included
Note: An additional photographer fee may be required if Jeanne is not available
for your date.
Loulu Palms Private Wedding Venue Package Special!
Only through A Rainbow In Paradise! The Loulu Palms offers the utmost privacy for those couples wanting that true intimacy with close family, friends or just for two on a romantic elopement! Visit our Venues page for more details.
Special Luau Reception Discounts!
Let us coordinate your wedding and your luau reception at a private venue on Oahu or Kauai!  We will bring the entertainment and food to you with an all authentic cultural show.
Or you may wish to have a Hawaiian Wedding and Oahu luau at Hawaii's Best Luau at Paradise Cove!  We can extend to you a discount on your wedding package. Discounts will vary according to the size of your party. Please inquire here for more information on availability and full pricing.