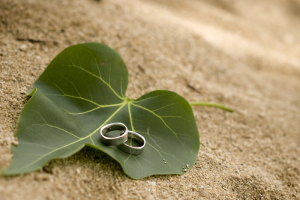 I am deeply fascinated by the Hawaii wedding industry — even though I am not engaged, or, even close. I can still be excited about it happening one day, right? It all starts with a dream and, if planned right, ends a beautiful reality. Your wedding is a once-in-a-lifetime event – you need everything you can to make it special. NEVER FEAR, wedding packages are here! These are available to aid the planning process for couples looking to make their destination wedding a dream-come-true.
An Oahu Wedding Package in Hawaii is one of the most monumental ways to tie the knot. Oahu weddings are noted to be beyond relaxing and desirably breathtaking. In order to make this day exquisite, you have to have the right wedding package to back it up. Let's face it — Who doesn't want to exchange vows on a tropical island where the ocean is echoing in the background?
To get the most out of your Oahu Wedding Package, take a few moments to read these cant-miss, budget-friendly tips. Keep in mind wedding packages are not one-size-fits-all. You can customize your dream-wedding package too.
1. Cost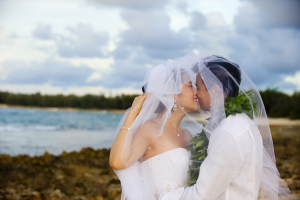 For starters, you will find wedding packages that are lower in cost than others. Don't let that fool you. While you might be convinced you are getting a great deal, there are other packages that are higher in price and offer far more value to your special day. Is the extra money worth it? Like I said, it's a once-in-a-lifetime event. Spend the money on a package that will leave you feeling excited and less stressed — Even if that means it comes at a higher price. It will be well worth it.
2. Location
The location of your wedding is key because it sets the ambiance from start to finish. There are many different locations offered through Oahu wedding packages that offer a unique experience. One of the many perks of arranging a wedding package is they're created by experts who live and breathe the air of Hawaii. Not only do they have a vast amount of experience in the wedding industry, they also know the island better than anyone. Instead of relying on photos and reviews, try reaching out to one of the many experts available. Tell them what you want and they will help you find the spot that best fits your vision. Here are some of the most exquisite locations offered with Oahu Wedding Packages:
Sunset Beach, North Shore– A beach for surfers and sunsets
Papailoa Beach, North Shore– More private with a few nice restaurants to enjoy following you ceremony
Lanakai Beach– Windward side of the island, great for sunrise weddings
Magic Island– Perfect for sunset weddings. You will see Honolulu's famous Diamond Head Craving landmark in the background.
Rabbit Island – Black lava rock formations and deep blue waters.
Exclusive Oahu Waterfall– It is worth the 20-25 minute hike. Better for casual
3. Photography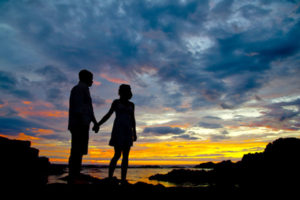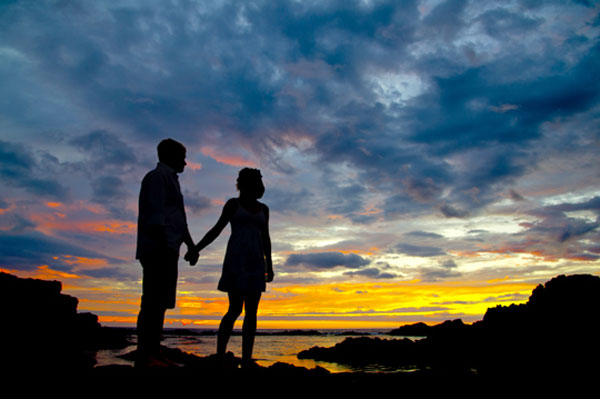 How do you capture your Oahu wedding so the photos actually do it justice? I know what you're thinking, "I don't know any photographers in Hawaii and my aunt Betty, who owns a DSL camera, can't afford a plane ticket." It doesn't matter who owns what camera, nobody captures Oahu Weddings the way local photographers do. These photography professionals have years of experience capturing the true essence of weddings in Hawaii. They will frame your special day in a way that will make your Facebook friends feel like they were there—or wish they were! Click the link to see a few of the best photographers to choose from and examples of some of their work.
http://www.arainbowinparadise.com/wedding-essentials/photography/
4. Ceremony Style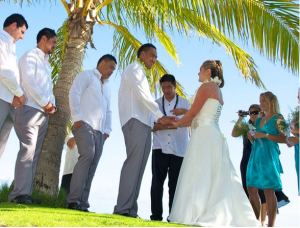 The Ceremony Style is important to determine before choosing your wedding package. Most wedding packages come with a marriage performer.  Some websites that offer Oahu Wedding Packages do not offer a variety of marriage performers or a variety of religious ceremony performances. Most websites simply state the marriage performer is available in a package is licensed in the state of Hawaii. A Rainbow In Paradise, however, gives their dreamers choices. As listed in their website, they offer the following:
Ministers:
Hawaiian Minister or Kahu
Christian Minister
Rabbi
Non-Denominational Officiate
They perform:
Hawaiian Ceremonies
Jewish Ceremonies
Civil Ceremonies
LGBT Ceremonies
Non Religious/Spiritual Ceremonies
5. Add-ons
As you know, there are wedding add-ons. You know, the things you pin non-stop on Pinterest with the mentality of, "I'll do that at my wedding." Higher valued wedding packages offer a great amount of things along with your location and minister. However, if you're looking at cheaper package costs, but want a lot of add-ons, you might be spending more money and time in the end. Below there are two examples of wedding packages available by two different companies. As you can see, you get a lot more for your money. Can you imagine the research and cost of the things you are missing out on?
High Value VS. Low Value
High Value
Low Value
– Licensed Officiate to perform ceremony
– Personalized ceremony creation
– Keepsake Certificate of Marriage
– 2 Hawaiian leis for traditional lei exchange (optional)
– High-quality professional digital photography. You may choose your photographer
– A CD that includes your images in high-resolution format (number of images depends on photographer choice)
– One Beach Permit
– Licensed Officiate to perform ceremony
– 1-hour photography coverage will cover the ceremony pictures and posed pictures after the ceremony. The one-hour coverage is good for either blue-sky pictures OR sunset, but not both.
– 75 digital photographs – high-resolution, printable up to 20x 30, exposure and color-corrected/enhanced.
A Rainbow in Paradise – $895
Dream Weddings Hawaii – $612
Now that you know all about Oahu Wedding Packages, take the time to explore what package best suits you. After doing continued research, I found http://www.arainbowinparadise.com/ to be the most reasonable for what they offer.  They also offer wedding packages on Kauai and the Big Island of Hawaii!
Best wishes and good luck!