Our Oahu Wedding Photographers
Wedding Packages in Oahu, Kauai, Molokai and the Big Island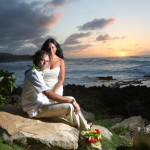 For the last 12 years, A Rainbow in Paradise Weddings has focused on giving couples exactly what they want to celebrate their Hawaiian wedding on Oahu, Kauai, Molokai and recently on the Big Island of Hawaii.
Kalona has been a big instrument in coordinating and guiding couples throughout the wedding planning process. When couples come to Hawaii they want to experience what Hawaii is known for: beautiful white sandy beaches, the culture, sunsets, waterfalls, rainbows and so much more!
Kalona works lovingly with each couple so they will realize their dreams and basis her services and ceremonies on the true meaning of ALOHA: Unity, Honesty, Humility, Patience and recognizing the life force Spirit in all people, animals, plants and the land.
The Spirit and beauty of the islands await you! Contact Kalona and let the magic begin!
From Our Blog
Aloha!
Hawaii is a diverse state and embraces many cultures and lifestyles.
We at A Rainbow in Paradise Weddings have been providing ceremonies for all people no matter whom they choose to Love!
LOVE is […]
I am deeply fascinated by the Hawaii wedding industry — even though I am not engaged, or, even close. I can still be excited about it happening one day, right? It all starts with a […]
Do you want to get away to warm breezes for your dream wedding? Do you want to spend an enjoyable evening by the sea in with your friends and family?
The Big Island and your Hawaiian […]